Surgery Center Gets New Easy-to-Clean, Durable Floors
Decorative Quartz Flooring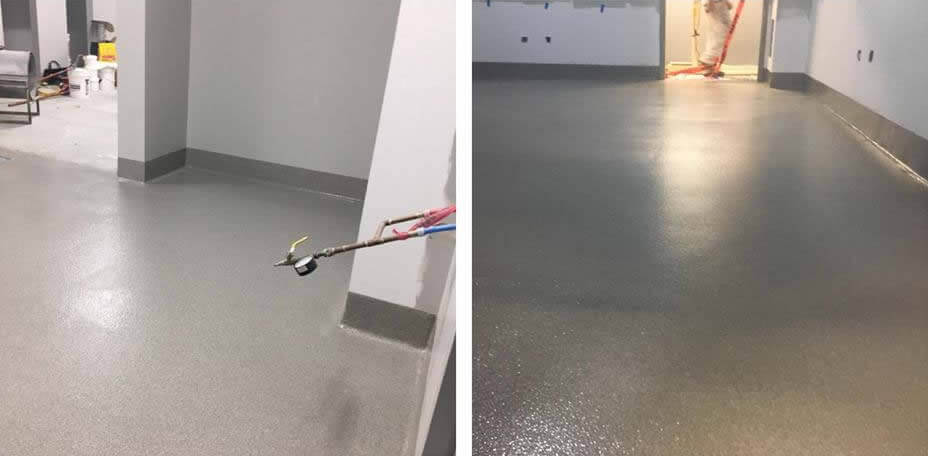 Needed: Durable, Easy-to-Clean Floor
Hascall & Hall experts knew the specialty flooring of this brand-new surgery center had to be of the highest quality which had to include cleanliness and safety.
The following factors were considered in choosing the new flooring:
1. Cleanliness
Cleanliness was an enormous factor because of the day-to-day operations the floor would endure, and a floor that's easy to clean is incredibly important in the health care industry.
2. Durability
Durability was also considered. Downeast Surgery Center needed a floor that could withstand chemical spills, UV stability, wear and tear of traffic.
3. Slip-Resistant
Lastly, the surgery center needed a floor that was slip-resistant due to the speed and precision with which doctors and staff care for their patients, and for the safety of their beloved patients.
About Downeast Surgery Center
Downeast Orthopedic Associates (DEOA) was founded in 1978 and has been growing ever since. After many years of surgery in a large-scale setting, DEOA decided to branch out and create a new surgical center to better serve its patients and ensure its future in the Bangor, Maine area.
The new development, the Downeast Surgery Center, served as an outpatient facility for surgery, and was owned and operated by local physicians and partners of Downeast Orthopedics and Downeast Hand & Physical Therapy.
Founders of the Downeast Surgery Center had three things they wanted to achieve for their patients:
1. keeping costs low
2. avoiding the crowd of big hospitals
3. and providing updated technology and space
Downeast Surgery Center featured updated equipment, larger rooms, an additional operating room and an air filtration system designed to prevent infections. Now patients had a top-quality environment for exceptional care.
Hascall & Hall experts along with Downeast Surgery Center associates chose a hybrid flooring system. This hybrid flooring system was the most practical choice for a surgery center because of its cleanliness, durability and slip-resistant texture.
After selecting the floor, the prepping process began, starting with a combination of shot blasting and vacuum grinding to prep the concrete for the new flooring system.

Hascall & Hall experts applied a six-inch cove base and smoothed it out evenly to create a seamless and watertight transition between the wall and the floor that would keep moisture out.
After allowing the cove base to cure, Hascall & Hall experts applied a base coat before diligently broadcasting flake into the wet hybrid system. Experts then duplicated that exact process for the second coat. Once the second coat was evenly cured, a grout coat was applied on all areas of the floor match as closely as possible.
The floor was finished with a final topcoat applied to the floor and cove base then replicated to make the floor both UV stable and chemical resistant.
Hascall & Hall would like to thank Downeast Surgery Center for granting the opportunity to apply a new clean, durable, slip-resistant flooring system.
At Hascall & Hall we love our work, and it shows
We pride ourselves in the creativity, flexibility, ingenuity, experience, and superior workmanship we apply to each and every one of the projects we undertake. Browse through our gallery of projects representing an extensive body of work spanning over six decades. Then contact us at 1-800-464-1481 for a free consultation, or to speak with one our flooring contractors or restoration experts. Let us give your project the attention and know-how it deserves.
Location: Bangor, Maine