Industrial • Warehouse • Showroom • Office • Hangar
What's Different About Hascall & Hall Polished Concrete?
Polished Concrete Appearance Choices
REFLECTIVITY
Matte
Satin
Polished
Highly Polished
COLORS
Polishing concrete is much like the work of a fine master carpenter polishing the wood on a finished masterpiece, or to that of an artist carefully placing their final brush strokes—honing their piece of art until it is a thing of beauty. That being said, why choose polished concrete over other types of flooring and surfacing options—especially when there are so many to choose from?
SAFETY
In a world of rampant lawsuits and workers' compensation claims, polished concrete lends a valuable safety element – slip-resistance. Even the high sheen exceeds OSHA and the Americans with Disabilities Act (ADA) requirements for slip resistance. And additional slip resistance can be factored into the finish-coating process.
ENVIRONMENTAL FRIENDLINESS
The implementation of a polished concrete surface uses no volatile compounds as opposed to some coating processes, and offers a great solution when allergies or asthma is a concern. Polished concrete makes use of a preexisting structural element in a building, eliminating the need to use additional raw materials.
In addition to gaining these initial positive environmental benefits, polished concrete floors sustain air quality over the long run, as they don't harbor dust or promote the growth of mold. The ease of cleaning polished concrete floors also keeps toxic chemicals out of the water stream. What's more, polished concrete acts as a heat sink to help maintain an even temperature with the ability to retain heat or remain cool, which can lead to lower energy consumption.
DURABILITY
Tile, wood, vinyl, carpeting, and many other flooring systems attract or trap abrasive agents such as dirt and grit which over the course of time act like sandpaper. Most of these flooring surfaces have coatings, and the sandpaper effect erodes the coatings, requiring repetitive maintenance. Wear and tear is entirely dependent upon the traffic pattern each floor sustains, and every environment is different, but polished concrete doesn't typically break down easily and require sealing or waxing—it is a long-term, durable aesthetic solution that becomes more cost-effective every day.
HIGH LIGHT REFLECTIVITY
In many public settings, image is everything. For clients that want a bright clean workplace, polished concrete is an option to consider—especially with reflectivity increasing by as much as 30 percent. Polished concrete surfaces create increased reflectivity and ambient lighting through an environmentally friendly solution.
NO FACILITY SHUTDOWNS
No toxins or hazardous wastes are generated in the process of applying a polished concrete flooring solution, so work can continue right alongside an installation, largely uninterrupted. And polished concrete surfaces can be virtually dust- and mess-free. New areas are immediately ready for production and business-as-usual, with no downtime to factor into the cost.
AFFORDABLE ELEGANCE AND BEAUTY
Hascall & Hall believes in thorough contact with clients to ensure that the limitations of the substrate are well understood and expectations are properly set. Polished concrete is not for every space. Consultation with your flooring expert may, for example, determine that a decorative epoxy flooring system would be the better solution—Hascall & Hall works hand-in-glove to ensure clients get the optimal result.
LOWER MAINTENANCE COSTS
Wet-mopping is the only real cleaning required of a polished concrete surface, as opposed to waxing or other laborious and time-consuming maintenance. Simply put, polished concrete floors are more durable, easier to clean, and often more hypoallergenic. The nonporous nature reduces the occurrence of mold growth and the inhabitance of dust mites as well. Through reflectivity and ambient lighting, energy bills can be significantly reduced, and no topical coatings need to be applied to maintain the shine—just a simple damp mop with a pH-neutral cleaner. With the exception of the most heavily trafficked areas, polished concrete keeps its beautiful shine.
IMPROVED SURFACE STRENGTH
As concrete ages and deteriorates, it becomes increasingly weak. It could be weather, improper initial installation, environmental issues, or surface stress, but whatever the cause the polishing process can strengthen weakened concrete and enhance long-term abrasion resistance with the proper densifiers. The condition of the preexisting floor will determine the number of grinding and polishing steps needed to achieve the desired effect.
AESTHETIC APPEAL
Often confused with the composite stone flooring solution known as terrazzo, polished concrete can take on a wide array of colors. With the right contractor, polished concrete can acquire the look of anything from marble or ceramic tile to slate and more and is often the most economical choice. Different designs can involve aggregates or colored concrete, as well as seeding the mix with such particulates such as glass, nails, bolts, or computer chips to create a unique and one-of-a-kind installation. Stained concrete can also be defined, not only by color, but by character, most definitively by the application techniques used and the desired finished product. The stains are not opaque and solid, rather the substrate and application determine the finished product—each floor a work of art and never two the same.
Polishing involves a methodical grinding that continues until the expert has attained optimal shine and smoothness. To achieve the desirable level of smoothness and shine, diamond blades are needed to insure the best outcome possible. After appropriate diamond grinding, a crew experienced in polishing knows when to switch to the stage known as lapping, a process which uses a finer grit to slowly and carefully work the floor to the desired sheen.
At Hascall & Hall we love our work, and it shows. We pride ourselves in the creativity, flexibility, ingenuity, experience, and superior workmanship we apply to each and every one of the projects we undertake.
Check out the Before & After picture to the right of the polished concrete floor job at Wild Oats Bakery & Cafe in Brunswick, Maine.
Browse through our gallery of projects representing an extensive body of work spanning over seven decades.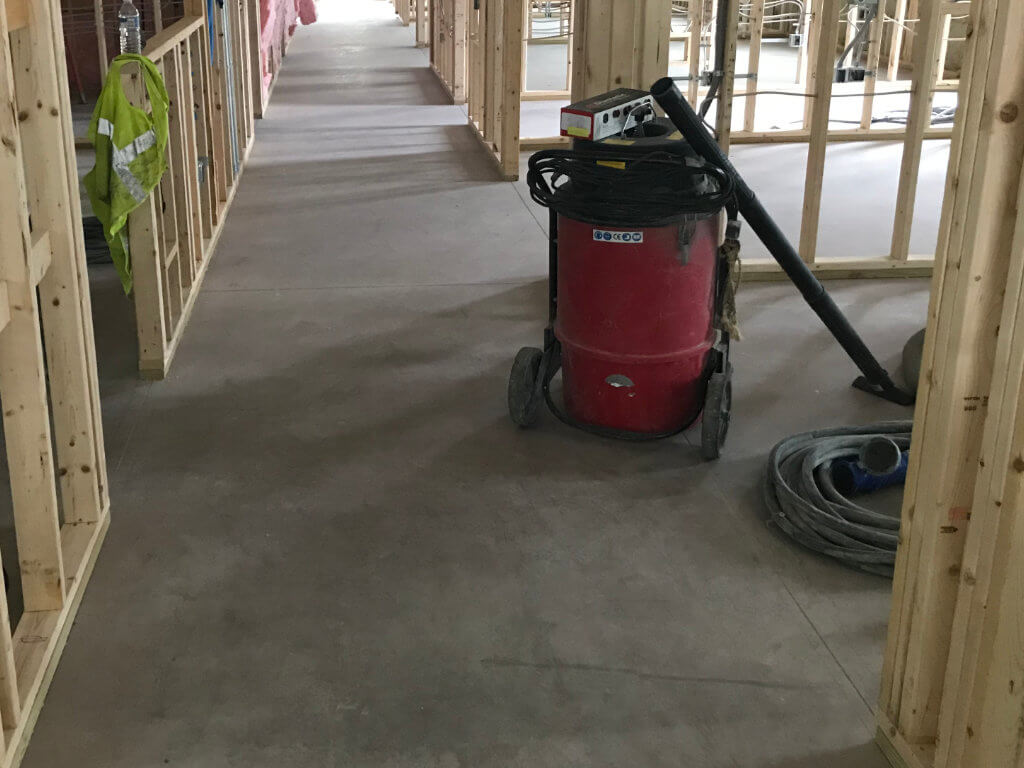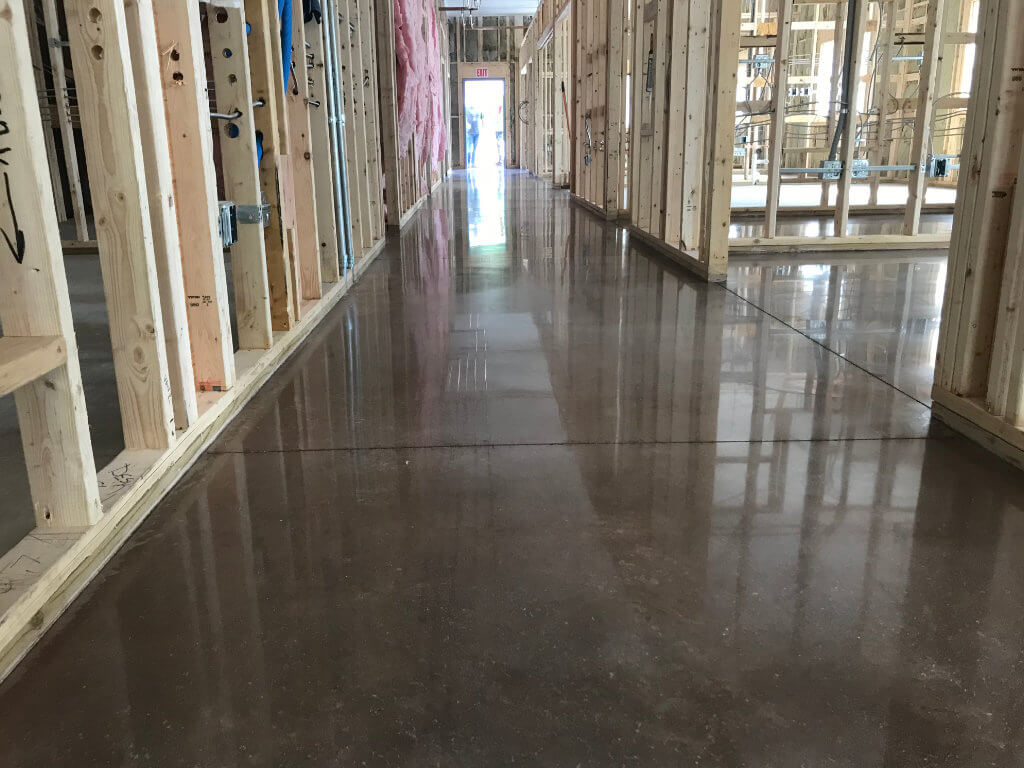 Grab the slider handle in the middle to reveal more or less of either image
Over the years, I have always received prompt and complete service. Rob has always taken the time to explain all the issues around the job to be done and the work has been completed within the estimated time and dollar amount. I will continue to use Hascall & Hall for all my waterproofing and masonry needs in all of my commercial buildings and I would highly recommend them to anyone.
It gives me great pleasure to look at the beautiful restoration work done by Hascall & Hall at the former Augusta City Hall, now the Inn at City Hall. You and your talented craftsmen have added new life to a building that had suffered from lack of maintenance funds for an extended period of time. Thank you for not only doing a wonderful craftsman-like job, but also for being on budget and on time.
The crew at Hascall & Hall did a terrific job restoring the two chimneys at White Columns at the Kennebunkport Historical Society in Maine. They were friendly, efficient and sensitive to our tourists. We were able to keep White Columns opened during this construction process. In a nutshell, the project was a complete success from start to finish!
Hascall & Hall recently renovated and refinished our service shop floor in the Nissan building in Auburn. They went out of their way to accommodate our unrealistic demands to get this floor done extremely quickly and at a very competitive price. The cooperation, communication, professionalism, and overall results exceeded our expectations. We would recommend them to any business.
Thank you for the outstanding job you did in masonry repair on the buildings of our condominium. The foreman demonstrated not only excellent workmanship but also a sense of artistry – for example he mixed subtly different color bricks on one chimney restoration to achieve a better color match with the surrounding bricks. In short, we thank Hascall & Hall for their excellent work.
Whether the initiative behind your polished concrete project is an aesthetic one or driven by stringent safety standards, Hascall & Hall has the skill, resources, and technical expertise you need.
At Hascall & Hall we put our core principles of impeccable quality, unwavering safety, and adherence to deadline to work for you!
All our projects begin with proper planning and attention to detail. We ensure that the right pieces go in the right places in the right sequence.