Retelling the Story of Hascall & Hall
How I Came to Work Here Then Later Became the Company's Owner
Whenever I'm asked to retell the story of Hascall & Hall, how I came to work here then later on to become the company's owner, I always like to start at the beginning: In 1948, Arthur Hall and Bruce Hascall became partners in a masonry restoration and waterproofing company when they landed their first big job—cleaning the Union Station building in Portland, Maine. Fresh out of college the energetic young entrepreneurs washed and scrubbed each of the building's stones by hand.
From that day forward, I'd like to believe we have consistently served every project with the same hands-on, individualized approach. In leafing through old photographs of our jobs-sites, I enjoy trying to identify the exact location and the people and equipment depicted. But what's even more gratifying is to note how well the projects we have worked on in the past have held up over the years, from commercial flooring and masonry restoration to concrete repair, as well as how many of our clients have called upon us time and again, whenever their buildings require our expert attention.
Very First Employee Joe Malia, Sr. Fondly Known as "Dad"
Hascall & Hall's very first employee, Joe Malia, Sr.—the man whom we all referred to so fondly as "Dad"—can be seen in several of the old photos. His presence looms large in the pages of our company history because he worked with us for 54 years before retiring at the age of 81. Oh, the stories he could tell—both he and his son, Joe, Jr., who's now been with us himself for over 40 years.
Arthur Hall, Bruce Hascall, the Malias, and many other long-time employees have been generous to those of us who follow in their footsteps. They have passed along not just their stories, newspaper clippings, old photographs and records but something uniquely valuable to the company: a commitment to giving our clients the finest quality work as safely and efficiently as possible.
Dedicated Team and Workforce
In reviewing the history of our company, it is natural to also reflect on the present. I can honestly say that it is a powerful feeling as an owner to know that I wouldn't change a person on our current team. We have worked together for so long that we have developed an invaluable level of trust in one another. From that trust comes a comfort level in knowing each others' strengths, creating an amazing synergy within the group and minimizing employee turnover. Regardless of the type of project or challenge, this knowledge and team awareness are always applied to the customer's advantage.
In order to retain such a dedicated workforce, as an owner I take a vigilant approach to safety in the workplace. Safety remains an ongoing and ever-evolving aspect of our business model, to protect our most valuable asset—our people—a ring of safety that encompasses not only our own employees but our clients as well. Hascall & Hall is dedicated to staying abreast of industry changes, keeping our workforce up to date on new developments in equipment, techniques, and safety codes, and ensuring the safety of each and every team member, even when they may not fully understand all the implications at first glance. No compromises are made or tolerated, and that focus is what has us allowed us to grow and prosper since 1948.
During the early years our company provided all manner of waterproofing, tuck-pointing, sandblasting, and acid-washing services, and laid or refurbished the occasional floor as well—it was a great start. And given our solid foundation the company was nicely poised for growth and diversification. The company had become a well-established building and waterproofing firm by the time it was purchased in 1966 by Edwin Smith and Rudolph Violette. Along with the assets and the name came both Joe Malia, Sr. and Joe, Jr. Even as they continued to build the company's reputation for providing outstanding masonry restoration, concrete repair, and waterproofing services, Ed and Rudy ventured forth into the industrial coating and flooring industry, with epoxy and cementitious overlays as their products of choice.
They were also providing tank painting services along with quite a bit of sandblasting at the time they upgraded from their old crank-swing gear to the new electric gear and from the old chisels to the electric grinders we still use to this day. To listen to Dad and Joe talk, you would have thought it was the world reborn.
1992 Rob Bergeron Joins the Company
Ed and Rudy continued to run the company together for more than 25 years, up until 1992, at which point the company was purchased by Tim O'Neil, who again bought the name and all the assets, as well as both "Dad" and Joe, Jr. Then in July of that year Tim hired Rob Bergeron—me—and this was when we really got the chance to start running. As Tim used to say, "Sure, you can go out and buy all the equipment you want—you just have to pay for it!" More easily said than done, but by steadily applying our core principles of safety, quality, and production, all our efforts have been worthwhile.
Hascall & Hall was providing flooring services at this time but we felt it was time to take it to the next level, so in 1993 we purchased our first shotblasting equipment for floor preparation. Shotblasting is an environmentally-green method for surface preparation preferred by professional contractors and recommended by coating manufacturers for a wide range of applications. As building contractors the winter months had posed somewhat of a constraint for us in the old days, but a new focus on flooring applications has provided for optimal year-round productivity.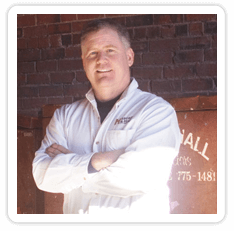 Rob Bergeron, Owner & CEO
The Hascall & Hall Story Speaks of Quality and Commitment
As gratifying as it is to inspect old projects and see that our work has stood the test of time, another equally favorite part of my job today is to inspect one of our current projects at its completion, for two reasons. Firstly, our customers know that while we have a dedication to quality on every job, we are not perfect. They also know that we stand by our work, and will make it right, even at times when an issue may not directly relate to the project scope of Hascall & Hall. Secondly, as an owner, I know that commitment will not only grant me the opportunity for greater satisfaction in the future, but also allows us to pride ourselves on the number of returning customers we are so fortunate to have.
We Are There to Help and Never Take Advantage
Not only does Hascall & Hall benefit from loyal repeat customers, we value our longstanding reputation in our community. I remember one time we had a phone call from an elderly lady in obvious distress. When I got to her home, I instantly saw how emotional and scared she was. She had been taken advantage of by another contractor, and was distraught that her son would find out and be upset and disappointed in her, which brings us back to Dad. We were still lucky to have him on our team. I sent Dad right over to rectify the situation, and the minute she saw him she was put at ease by his amiable nature and the project was correctly completed in a very short time. I didn't even charge her—now having said that, I don't make a habit of not charging for the work that we do.
The moral of this story and the way that I will always operate Hacall & Hall and instill in every employee is to leave every customer with the impression that we are there to help and never take advantage.
To this day we continue to expand our commercial flooring, masonry restoration, concrete repair services, and assist when possible in residential situations with the most up-to-date equipment, materials, and methods available. Hascall & Hall was built on a strong foundation of premium-quality masonry restoration and waterproofing services, but an indomitable entrepreneurial spirit has also allowed us to become one of the most respected specialty flooring installers in the Northeast.
Arthur Hall and Bruce Hascall became partners in a masonry restoration and waterproofing company when they landed their fist big job -- cleaning the Union Station building in Portland, ME.
Purchased by Edwin Smith and Rudolph Violette who continued to run the company together for more than 25 years, up until 1992.
Purchased by Tim O'Neil, who bought the Hascall & Hall name and all its assets. In July of that year Tim hired Rob Bergeron, who is now the current owner.