Falmouth Fire-EMS Station Urethane Flooring System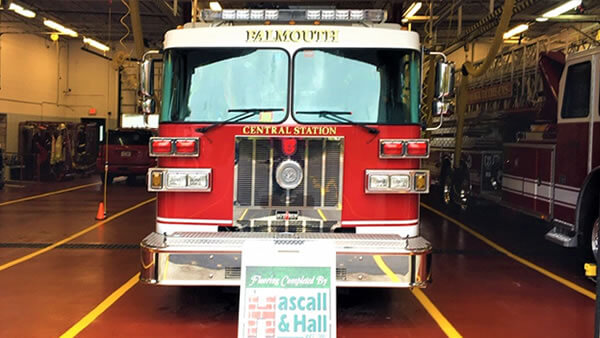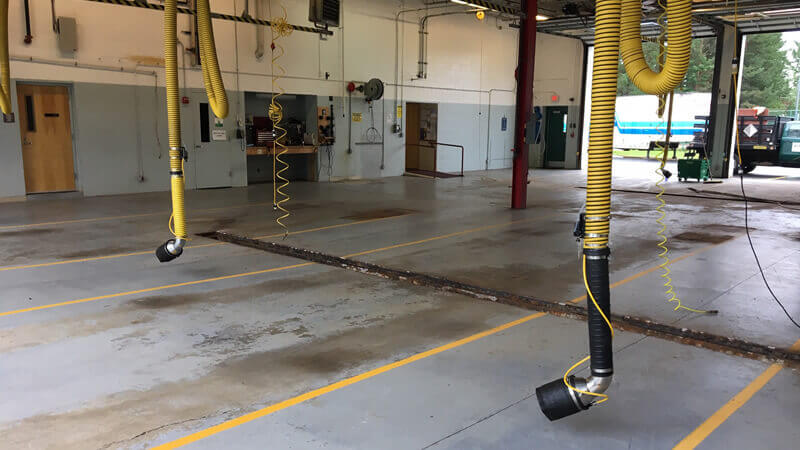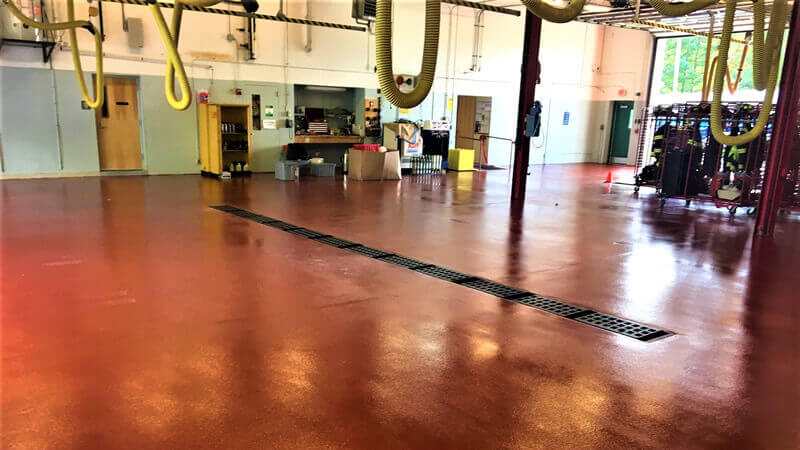 Because of wear-and-tear, the Falmouth EMS & Fire station floor exhibited cracking and deteriorating concrete. Hascall & Hall was asked to recommend and install a new flooring system that could withstand the non-stop environment of the Falmouth EMS & Fire station.
Hascall & Hall experts considered several factors when choosing a flooring substrate. Durability was an important factor due to the rugged day-to-day operations of the station. Additionally, Station 2 needed a floor that was easy to maintain and keep clean despite the heavy traffic coming in and out of the bay. Lastly, the station needed a floor that was slip resistant because of the speed at which firefighters respond.
A urethane flooring system was recommended by Hascall & Hall's flooring experts. Urethane flooring systems are commonly utilized in establishments with similar needs as the Falmouth Fire-EMS Station. Urethane is used to resurface concrete floors and provides a number of performance functions such as traction, slip resistance, and abrasion resistance from constant foot traffic and equipment movement.
Urethane floors are also used to provide waterproofing and pitch for water drainage. Moreover, they are the best solution for hygienic protection. They are poured into place, so there are no seams or grout lines for bacteria to grow. They are also very easy to clean! In the case of accidental spillage, urethane floors enable associates to quickly and easily clean the overflow and return to work.
About Falmouth EMS & Fire
The Falmouth EMS & Fire Station has a long history in the beautiful town of Falmouth, Maine. Since its first call in 1913, the station has responded to nearly 2,000 emergencies each year. Much like Hascall & Hall, the Falmouth EMS & Fire Station takes great pride in providing outstanding customer service to its community.
Station 1 was originally established in 1916 as a double bay fire station. The Falmouth Firefighters raised the money to build the station and constructed it themselves. In 1939 renovations were completed to accommodate a new pump truck.  In 1951, the station was entirely rebuilt to include four bays. In 1960, it was changed back into a three-bay station to better serve the community.
Once districts were drawn in 1927, Falmouth EMS & Fire built Station 2 to take on District 2 of Falmouth, Maine (which started at Route 1 on the Portland line and extended all the way to the Cumberland line and west to Woodville Road.) A new and improved Station 2 was built in 1976 at its present location (Bucknam Road) – a few decades later in 2007, a major renovation and addition was set forth. This renovation included a new training room, day room, bunk rooms, offices for the call deputy chiefs and captains, and the new administrative wing. Presently, station 2 houses Engine 2, Tower 2, Ambulance 2, Ambulance 3, a 25-patient MCI trailer, a highway safety trailer and administrative offices.
After the flooring type was selected, the prepping process began with a combination of shot blasting and vacuum grinding to prep the concrete for the new flooring system. This process "blasts" off debris and stains that are on the floor, which can't be removed through regular cleaning methods.
Experts then routed out existing cracks and control joints and removed all deteriorating concrete. The cracks in the floor were then pretreated and patched to prepare the floor.

Following the prep work, Hascall & Hall put down a slip-resistant double broadcast urethane system with a grout coat. Ability to clean, durability, slip-resistance, chemical-resistance and moisture-efficiency are all characteristics of a urethane flooring system that will allow the floor of this emergency-services establishment to withstand the test of time.
The floor was finished with a deep red UV stable topcoat, which makes the floor both chemical-resistant and moisture-efficient.
Location: Falmouth, Maine