Historic Woolson Block Gets a Masonry Facelift
Masonry Repair and Restoration












Upon original assessment, the building showed significant signs of wear and tear that needed to be addressed immediately.
Such deterioration can create voids throughout the structure, which can be detrimental to the building's structural integrity and functionality.
Moreover, if water finds its way into these voids and freezes, the results can be extremely damaging (and costly).
Location: Springfield, Vermont
The historic Woolson Block is a three-story Italianate-style brick building, built in 1868 by the president of a Springfield machine tool company and woolen mill.
Documented photos from the early 1900s portray the Woolson Block as a busy, well-kept centerpiece in downtown Springfield. As time progressed the structure gradually transitioned out of its factory days into a mixed-use building until it eventually fell into disrepair.
Thought it stood tall for decades over the Black River falls, Woolson Block could no longer brave Vermont's harsh seasons. The property was led to tax sale by the owner, and fell vacant in 2016 after public health and safety concerns were raised.
Not long after, Woolson Block was acquired by the Springfield Housing Authority and Housing Vermont, and the "Woolson Block Redevelopment" project was born. The project aimed to bring a surge of economic activity to the downtown area, resulting in new affordable housing and fully renovated store front opportunities for new businesses. That's when Hascall & Hall was called in to help.
Any form of deteriorated masonry will not only take away from the building aesthetically, but also structurally. It was imperative that Hascall & Hall identify any openings caused by deterioration to avoid the intrusion of harsh weather conditions that can rapidly cause further damage. If these openings are not caught in time, they can spread from one spot to the entire building rather quickly, leaving a weaker existence and sometimes even disrupting the interior as well.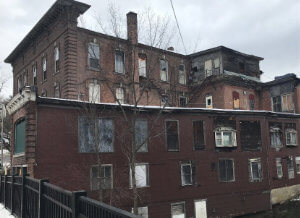 Based on the visible deterioration of the existing masonry structure, we started this project by removing and replacing brick throughout the entire building.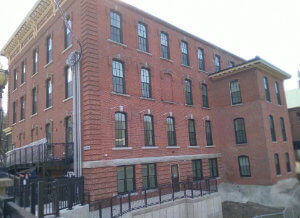 The Hascall & Hall team restored the masonry, crafted new store fronts, and built an elevator shaft. When the work was complete, Woolson Block was returned to its original handsome condition – ready to withstand Vermont's rigorous seasons once again.