Las Olas Restaurant Gets New Polished Concrete Floor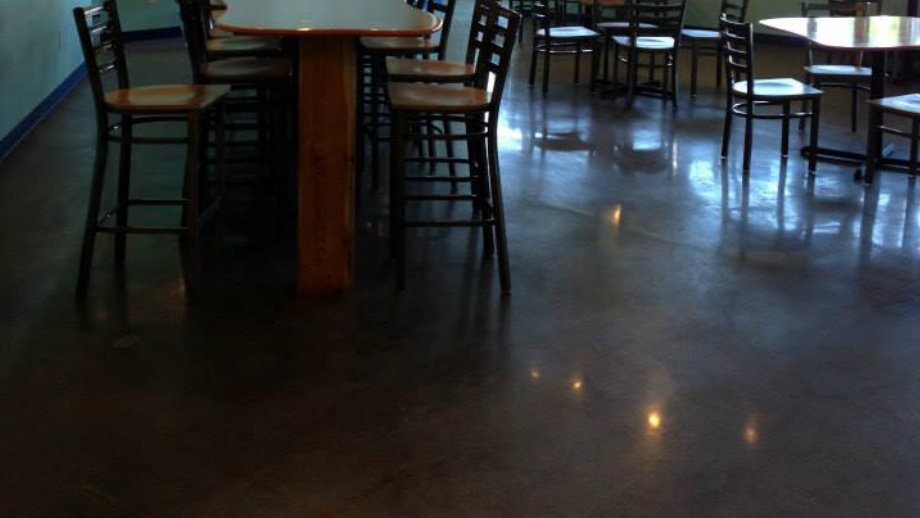 Hascall & Hall assisted Las Olas's Matt Burke in opening the restaurant's third location in Wells.  After having experience with floating wood floors in one location and vinyl floors in the other, Matt knew he wanted to go with the low maintenance, durability and beauty of a natural polished concrete floor. To complete his rustic vision, and also have the floor work well with the multi-colored interior, he decided to go with a natural matte finish with no stain. To accomplish this goal the polishing process stopped with a #400 grit shine.
About Las Olas Restaurant
If you Google Las Olas you might find a scandal of money and betrayal on Las Olas Boulevard in Fort Lauderdale, Florida or you might be lucky enough to find a different Las Olas; a family-owned restaurant with three locations that offers a combined selection of both Mexican and Latin food as well as vegan and vegetarian selections.  You won't find a scandal here, but you will find out they have been voted "Best in New Hampshire" with locations in Exeter and Hampton and just recently opened a location in Wells, Maine.  You will also find great owners that run quality establishments and insist on freshness and quality at every location.
Upon mobilization and arrival on site, the Hascall & Hall team began grinding as the first step in the ten-step process. This project would ultimately require five full floor grinds. It would have been ideal to begin the project prior to the walls being constructed, but the crew had an aggressive schedule and planned to open July 1. As with every polishing project that involves extensive edge grinding by hand, the team needed to keep on pace with the hand grinding so that the larger 32-inch planetary grinder could follow and ensure a smooth transition between each type of grinding. The blending process is essential to the floor being finished properly.
The additional challenge with this floor involved the concrete substrate. The space was at the end of a strip mall and when the floor was originally poured, the construction left a very wavy floor along the edges making the hand grinding along the edges that much more difficult. This effect often is the result of the original floor not being properly troweled around the edges.
Maintenance for this floor will only be once a year in the winter, the floor will be cleared so that an appropriate cleaning can be done. Hascall & Hall expert flooring crews will then complete the same final step as the original process which is to burnish it again to bring it back to original state. This process will only take approximately three hours depending on good access to all the areas as opposed to an acid type stained concrete which requires constant maintenance.
Acid stained floors are waxed as opposed to polishing requiring monthly waxing to maintain the finish. With polishing, if colors are chosen, everything is impregnated into the concrete. Hascall & Hall's finish coat is an acrylic based top-coat, and burnishing helps create the chemical reaction so that it bonds with the concrete and removes any residual finish coating – or whatever did not penetrate the concrete.

Hascall & Hall was able to adhere to the aggressive schedule and opened as planned on July 1st.