Shimmering New Floor Showcases Impressive Car Collection
Decorative Flake Flooring












The customer wanted to make sure these rare automobiles were proudly displayed on a pristine floor that beautifully accented the museum's priceless artifacts.
When Hascall & Hall first arrived at the job site, it was clear that the existing floor had seen better days. It did no justice to the incredible works of art being displayed on its surface. 
About the Bob Bahre Car Collection & Museum
Location: Paris, Maine
Bob and Sandra Bahre were the previous owners of the New Hampshire Motor Speedway and had a deep passion for collecting some of the most sought-after cars in the world. Their normally private collection of automobiles opens to the public every year on the third weekend of July, and attracts hundreds of car enthusiasts from all over the world.
The 10,000 square-foot museum features mostly coach-built American and European specials from the 1930s, with half the collection being restored and the remaining half in original condition.
Hascall & Hall began the project by removing the existing epoxy coating and treating all cracks and control joints accordingly.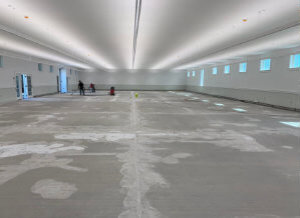 Once the prep work was complete, The Hascall & Hall crew installed a double broadcast quartz system with a satin urethane topcoat to give it a nice, smooth finish. To top it off, we applied a full-wall system to the top of the chair-rail to allow for an easier cleaning process when exhaust hits the wall.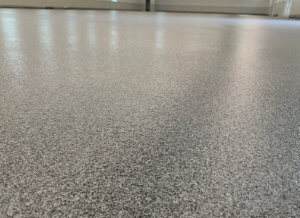 Hascall & Hall applied a sleek epoxy floor with decorative flake that shimmered throughout. While appealing to the eye, the flake would also allow for an easily maintained, slip-resistant surface that would showcase some of the rarest items known in the automotive world.