Historical Church Entrance Restored to Its Original Glory
Decorative Flake Flooring














After years of foot traffic through its grandiose doors, the granite steps of the Woodfords Church started to wear down as they struggled to support the weight. Hascall & Hall was asked to restore the entrance back to its former glory, utilizing the existing granite stones to keep the scope of work as cost effective as possible.
About the Historical Church Entrance Restored to Its Original Glory
Location: Portland, Maine
The Woodfords Church dates to 1872. Nestled on what was then known as Spring Street, the original church was designed by Francis Fassett and E.F Fassett – both of whom are recognized for designing many distinctive buildings throughout Portland. Many of their buildings still stand today. The steeple bell was donated by two daughters of the infamous early settler, James Deering.
In 1956 the new Woodfords Church was built, and the steeple bell was transferred from the original location to its new home. The church, with its bright steeple visible from so many places in the city, takes its place amongst the Portland skyline as individuals come together and form a place of community.
With some restoration cleaner and some elbow grease, Hascall & Hall pressure washed the granite to remove all residue that had caked onto the stones.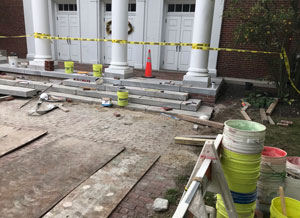 We then reset the stones to create solid, level landing steps and caulked all joints to keep any unwanted moisture out.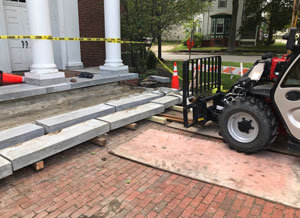 On the brick landing, Hascall & Hall repointed the bricks with fresh mortar to give a clean, uniform appearance prior to entering the church's doors. In no-time, the Woodfords Church entrance was as good as new! Welcoming individuals from all over the city to take part in its modern church-life activities.