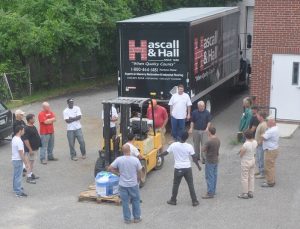 According to the Occupational Safety & Health Administration (OSHA), since its inception in 1971, the workplace fatality rate has been reduced by 62 percent and occupational injury and illness rates have dropped by 42 percent.
While those are impressive statistics, we still have a long way to go; and safety training is an integral part of the safety process.
There are many reasons to implement a safety training program, not the least of which is that OSHA requires specific safety training based on the type of work a company performs.  Since we are in the construction business doing masonry restoration and commercial flooring i.e., polished concrete and resinous flooring, we are held to OSHA training requirements for both Construction (29CFR 1926) and General Industry (29CFR 1010).
Another reason is that safety training can reduce costs in the form of lower insurance premiums, not to mention the cost of worker's compensation deductibles, lost time, and restricted duty for injured employees, which benefits both employer and employee.
More importantly though, is increased worker knowledge and awareness to help reduce injuries.   Our objective as a company is to maintain a culture that creates "top of the mind awareness" of safety – on and off the job.  We feel safety training helps us attain that objective.  Safety training provides employees with the tools they need to be able to identify a potential hazard and the means to safely remove the hazard.
We maintain that Safety is Our Number One Goal and safety training is a vitally important component of that goal.